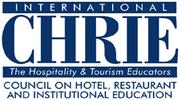 Welcome to the ICHRIE voter portal!
Your username is the email address associated with your ICHRIE membership.
Your password is your ICHRIE Member ID number.
The deadline for voting is 30 December 2020, 11:59 ET.
Please note: Ballots can only be cast electronically using the official 2020 ICHRIE Ballot and Voting System.

Contact the ICHRIE office for questions, agrayson@chrie.org

Login to Vote!