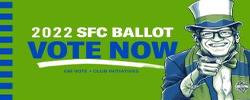 Welcome to the 2022 Sounders FC Ballot
As an Alliance Member, your voice matters to us. As part of our Democracy in Sports at Sounders FC, you are at the center of our club and have a say in some of our biggest club moments. Part of what makes our club unique and a benefit to our Alliance Members is that you can participate and share your voice in our Annual Sounders Ballot.
This ballot allows fans' voices to be heard by putting some of our key Club decisions in their hands. New this year and in addition to our third-ever General Manager Vote, you will have the chance to vote on your favorite 2023 Alliance Member scarf design, the name of our upcoming Fan-Funded Field, Humanitarian of the Year, and so much more.

Login to Vote!
To vote, please enter your email address and account ID associated with your season ticket member account. If you have any questions or issues logging in, please contact us at 1-877-657-4625 or customerservice@soundersfc.com